Franchise Support
We've Got Our Martial Arts Franchise Owners' Backs
This is an exciting time to own a Premier Martial Arts franchise business. Martial arts has entered the mainstream in a big way with the growing popularity of UFC and the prominence of the sport in popular movies such as The Avengers, Hunger Games, Batman v Superman, and almost any other action film. As a result, interest in the sport has reached an all-time high. Millions of people are turning to martial arts as an alternative to the gym, and parents are sending their children off the couch and off their screens to learn the discipline, the respect, and the self-confidence that martial arts provide.
Though Premier Martial Arts franchisees benefit from the growing interest in martial arts, what truly makes us stand out as a business opportunity is our ability to win new customers and then keep them for several years at a time. Our martial arts franchise can do this because we're different from any other martial arts experience available.
"When a new customer walks through our doors, they are immediately struck by how clean everything is and how fresh everything smells," says Myles Baker, Vice President of Premier Martial Arts. "Our instructors are the most experienced in their markets, and they are able to provide the best possible martial arts experience. Our instructors are personable, and professional and build meaningful relationships with our customers. This is why our customers stay with us for several years on average: they cannot get an experience that is as professional and engaging anywhere else."
Our customers are primarily children, ages 5 – 15, and this is where being professional and providing a clean, well-lit atmosphere that is as fun as it is rewarding is crucial. Parents are encouraged to watch their children take classes, which gives them insight into how much their children are benefitting.
"Parents are sending their kids to us in record numbers," says Eric Arriaga, owner of a Premier Martial Arts franchise in Harlingen, Texas. "There's a lot of issues out there, such as bullying, attention deficit disorders, discipline issues, obesity, and others that parents are eager to address. We evaluate our students individually with their parents so that we can put their children in the program that best addresses their immediate concerns. Our programs are designed to empower our students to become more confident, more respectful, and more fit, while also becoming great martial artists."
Ready to take the first step and become the proud owner of a martial arts business? Fill out our contact form to get started!

Our Martial Arts Franchise Has Multiple Revenue Streams
Thousands of children and adults walk through the doors of Premier Martial Arts locations every weekday, and we capitalize on this by systemizing our revenue streams to increase the profitability of our franchisees.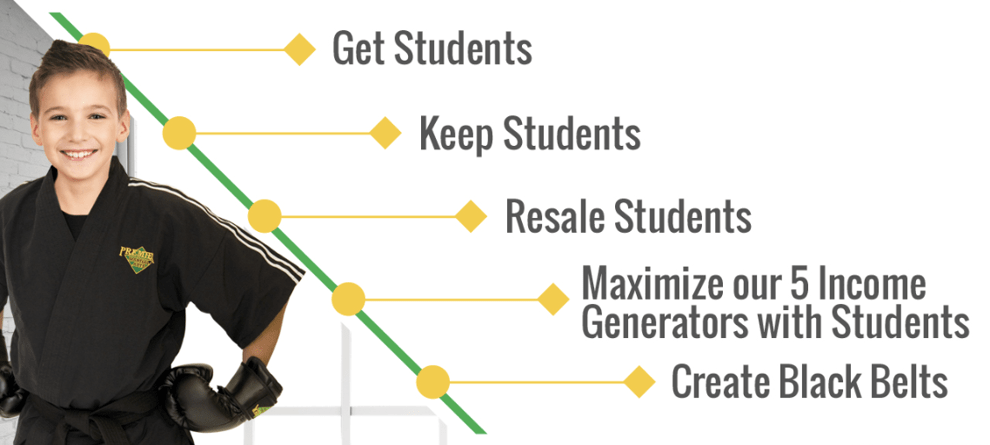 How do Premier Martial Arts locations make money?
Signing up new customers
Membership upgrades and renewals
Recurring payments from existing customers
Selling merchandise such as uniforms, weapons, and more
Birthday parties
Private events
Additional classes such as self-defense for women, fitness kickboxing, yoga, and educational programs for kids like Bully Proof.
"Premier Martial Arts is one of the only brands in martial arts that recognizes martial arts is a business," says Barry Van Over, Founder of Premier Martial Arts. "The wide majority of independent martial arts studios struggle to stay open because they do not have the skills needed to run a profitable business. We have organized Premier Martial Arts so it is more profitable and sustainable for our franchisees, as well as being affordable and life-changing for our customers."