Our Classes
Our Martial Arts Franchise Offers a Multidisciplinary Curriculum Focused on Character Development
Premier Martial Arts specializes in instructing children and adults, ages 4 and up, in the practice of martial arts. Our sole goal is for our students to develop self-discipline, high self-esteem, a positive outlook, a spirit of constant improvement, and an attitude that refuses to give up.
Since our founding in 2004, we've empowered thousands of students to realize their full potential and learn the life lessons necessary to be a confident, successful person — all while having fun. Of the more than 20,000 independent martial schools in the nation, Premier Martial Arts stands out because we empower our students to change their lives.
"We're a professional martial arts program for the entire family," says Myles Baker, Vice-President of Premier Martial Arts. "We have students from 3 years old to 63 years old. We do a great job of teaching a curriculum of martial arts that a wide variety of people can be successful in pursuing. We've been able to take some of the most effective martial arts disciplines and put them together in a way that is easily digestible and has practical use in the real world."
"We teach children a lot differently than we teach adults," Baker continues. "Our program for kids has a correlating mental benefit for every physical movement. So just as much as the punching and kicking are taught, we really want to focus on character development. So we help them focus, learn how to respect their elders, and learn how to treat others in a positive manner. For adults, we focus primarily on fitness and self-defense, and we work with them to help them reach their goals."
Unlike studios that focus on only one form of martial arts, Premier Martial Arts incorporates techniques found in four effective disciplines: Karate, Kickboxing Krav Maga, Brazilian Jiu-Jitsu, and Kali. This provides our students with a well-rounded approach to personal protection and a fitness system for the modern world.
This is what we teach our students: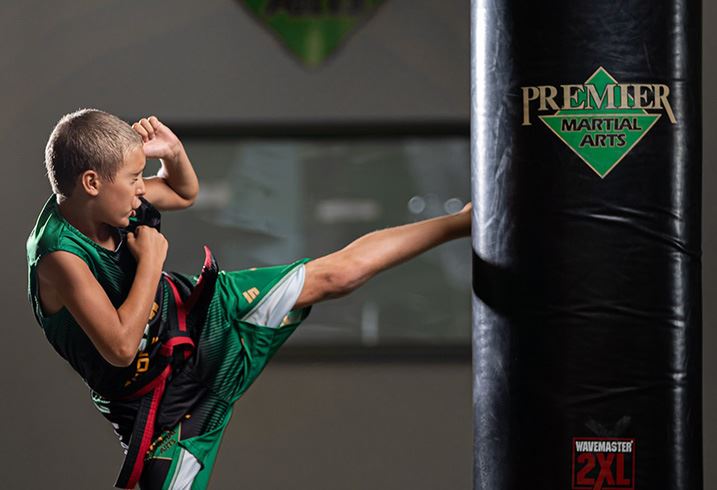 Israeli Krav Maga — Real-World Self Protection
Krav maga is a Hebrew phrase meaning "contact fighting." The word maga means "contact" and the word krav means "battle" or "fight." In krav maga, there are no rules. Krav maga is a self-defense and fighting system, not a sport. All the techniques focus on strategies and effectiveness in real-life conditions and situations. The attacks and defenses in krav maga training are designed generally for close-quarter, possibly life-threatening situations. The goal of training is to neutralize attacks, counterattack for self-protection purposes and to escape as rapidly and as safely as possible. Though self-protection is the main goal of krav maga, its techniques, conditioning and drills make krav maga the ideal training for self-defense, fighting or fitness.
Kickboxing
Muay Thai is a combat sport from the muay martial arts of Thailand that uses stand-up striking, along with various clinching techniques. Knowing that self-protection and fighting are totally different situations, our kickboxing curriculum teaches our students techniques used in all ranges of realistic stand-up fighting, while getting them in the best shape of their lives. Premier's kickboxing curriculum incorporates the punching techniques of Western boxing with the kicking, kneeing, and elbow strikes of Muay Thai kickboxing. This combination makes for dynamic fitness training while training in the world's best striking system.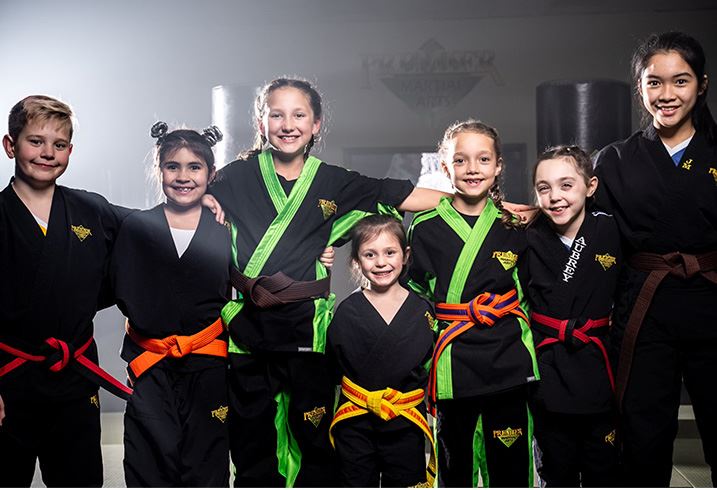 Brazilian Jiu-Jitsu
Brazilian jiu-jitsu is a martial art, combat sport, and self-defense system that focuses on grappling and especially ground fighting. This highly effective form of self-defense originates in Rio de Janeiro, Brazil. Brazilian jiu-jitsu and submission grappling teach our students how to defend themselves in the event that they are "taken to the ground" in an altercation. Through learning throws, joint locks, and submission holds, students will be better able to defend themselves while standing up in close range or in the event that they are on the ground.
Kali
In modern world self-protection, the need for weapon defense and weapons training is a reality. The art of kali gives the Premier Martial Arts student the knowledge needed to survive in a wide variety of real-world situations such as disarming an attacker and how to use weapons effectively.
As a martial arts franchise owner, you'll bring these classes and more into your community. To learn more about our opportunity,take the first step toward ownership today.